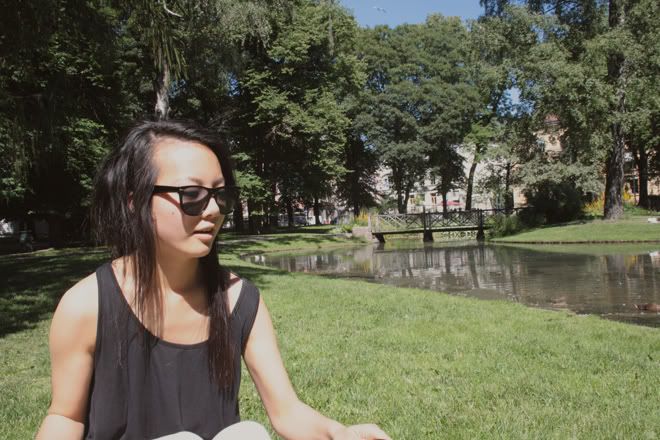 Once again I have played tourist in Oslo. My friend Diem came all the way from Sandefjord to visit me in Oslo. After being in Oslo with no friends ,it's get kinda boring and lonely. I'm was super happy when she said wanted to visit me even though, I was forced to wake up 8.30 AM on a Saturday morning to pick her up from bus station.
Trying my best to be a show the good side of the capital, we walked around in Majostuen and ended up laying down in Slottsparken to take a little break from it all before continue shopping. (beware of upcoming typical tourist pictures shots)
After taking loads of picture in front of the castle, we ate ice cream( I ate ice cream while she bought Vitaminwater) at Mövenpick ice cream bar, and I must say they have THE best picaschio ice cream E-V-E-R! If you really want to eat good quality ice cream in Oslo, pay a visit Mövenpick ice cream bar at Karl Johan.I was supposed to shoe Diem the Opera house, but somthin' disrupted the upcoming sightseeing place. But the other side, I got one skirt from Monki for only 60 kr or €7.50/$9.50 and a Blackbook top from h&m, but sadly Diem had to leave extra early then we planned, but she has lighten up my weekend and waking up 8.30 AM was worthy hell!