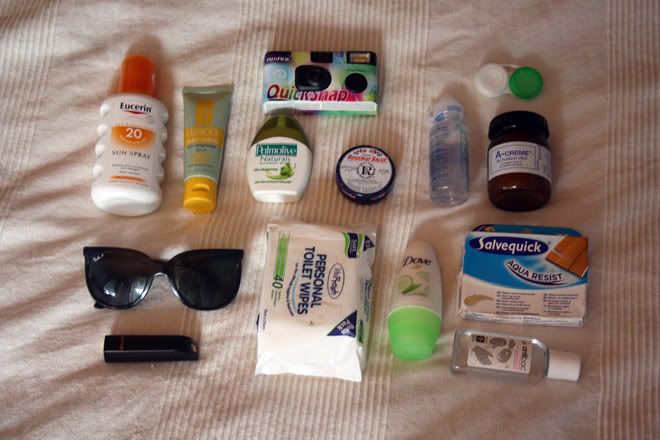 from the left: eucerin sun cream SPF 20, clinique suncream for face SPF 50, disposable camera( I have learned my lesson from last year), palmolive bodywash, rosebud salve, necessary things to use of contactlenses, a-cream, ray-bans, Lancôme lipstick in rose mythique, wet wipes from vietnam, deodorant, antibac and plasters
So here is the stuff I'm bringing to Slottsfjell! The festival itself doesn't before Thursday, but I'll be leaving a day earlier to catch a decent camping spot. This will be my ever first Slottsfjell with camping, so Slottsfjell is taking my virginity on the real and proper festival. The upcoming days will be so memorial and good. However, my bag is so stuffed right now. With possibilities of weather changes, I have packed down extra shifts in case it rains, especially when the Norwegian weather is moody right now. Lol, I have also figured an outfit for every each day while staying there. I know it sounds stupid but I really don't want lose any precious time. It's going to be a pain carrying the heavy bag, but as long I see Biffy Clyro, Niki and the Dove and Two Door Cinema club, I am fine.
Ah, I'm so stoked right now. I'm ready for four days with festivities. And oh! I'll unfortunately not update the blog during Slottsfjell.
from the left:2x arctic monkeys tshirts, bikbok denim shirt, f21 dress, h&m hat, florence + the machine tote bag, vintage purse, vintage floral maxi skirt, cheap monday shorts, topshop boots, and vintage flats